How to create your own mini campaign
Together, students and teachers throughout Johnson County are getting engaged and doing their part to #endthetrend of teen vaping. If you're considering launching a campaign within your organization, school or community, these resources can help jump-start the conversation. And don't forget to encourage middle and high schoolers you know to take our pledge to vaporize this alarming trend.
It's starts with a little education
Though pre-teens and teens are generally familiar with vaping, it's important to set the stage with your audience before using our handy marketing assets to extend the message about ending this current trend. Our Google Slides presentation contains a brief look at Leveraging Media Campaigns to Help End the Trend. Within the presentation, you'll find notes you can use to follow the story line. Feel free to save a copy of the deck or download the file as a PowerPoint presentation and make edits as you see fit.
The more students know, the better decisions they can make … starting with just saying "no" to vaping and helping #endthetrend!
Order your very own Guinea Pig and G.O.A.T. stickers!
We're making it easy for you to use our custom sticker art to help #EndtheTrend! Follow these simple instructions to have yours printed, and plaster them on everything from notebooks to phone cases to water bottles to spread the word. Don't forget to also share photos of your stickers in use and tag #EndtheTrend!
Download the art using the links at the right. When you see the image file, right click and choose "Save images as" to save the art to your computer.
Sign up for a FREE sticker mule account.
Click on the "Stickers" menu item; then select "Die cut stickers."
For the Guinea Pig sticker: Select a custom size and enter 2.95" x 1.99".
For the G.O.A.T. sticker: Select a custom size and enter "2.8" x 2.55".
Choose your quantity and hit continue.
Upload the artwork from the place where you saved it on your computer.
Follow the prompts to checkout. You will receive a proof from Sticker Mule. Once approved, Sticker Mule will ship your stickers to the address you provided for FREE!
Plaster our message with pretty posters
Are you familiar with our Safer Alternative video series? We've taken these incredibly popular Snapchat ads and turned them into colorful, eye-catching posters perfect for your classroom and hallway walls. Within the posters, short vignettes playfully poke at the idea that vaping is a "safer alternative." Really?! Safer than what?? We've also turned our lovable G.O.A.T. and Guinea Pig characters into poster celebrities reminding viewers the choice is theirs — be the vape industry's guinea pig or make the smarter decision and enjoy your Greatest Of All Time status.
Simply download your favorite artwork from below and print it on your home or school printer at your desired size (using to print to fit). Then use the printers' mark to safely trim the edges for a clean look. Or, take the art files to a local print shop for an even bigger, bolder message. (Note that the original artwork size is noted in the description.)
Add your own inspiration to personalize the campaign!
Nobody knows better than you what kind of messaging and imagery will resonate among your friends and peers. So why not add a little school spirit into your campaign and personalize it with your own memes and gifs! Two popular resources you can use are Canva and Giphy. They've got everything you need built right in, and best of all … they're FREE! Simply follow the steps below to get started.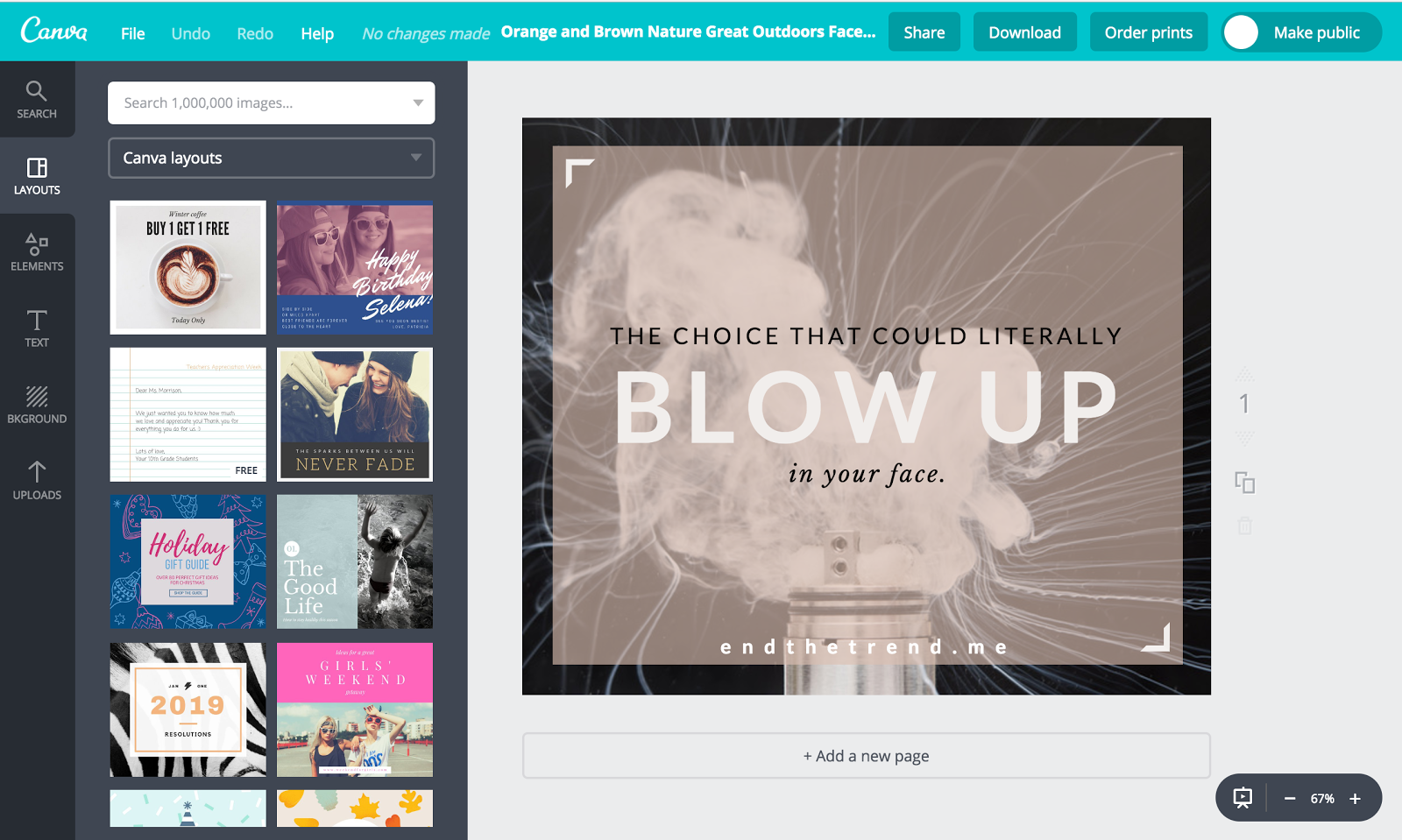 CANVA
Using beautiful pre-designed layouts, stock photos and simple editing tools, create your own posters, social media graphics and more with ease. Check out YouTube for A Simple Video Guide to Canva.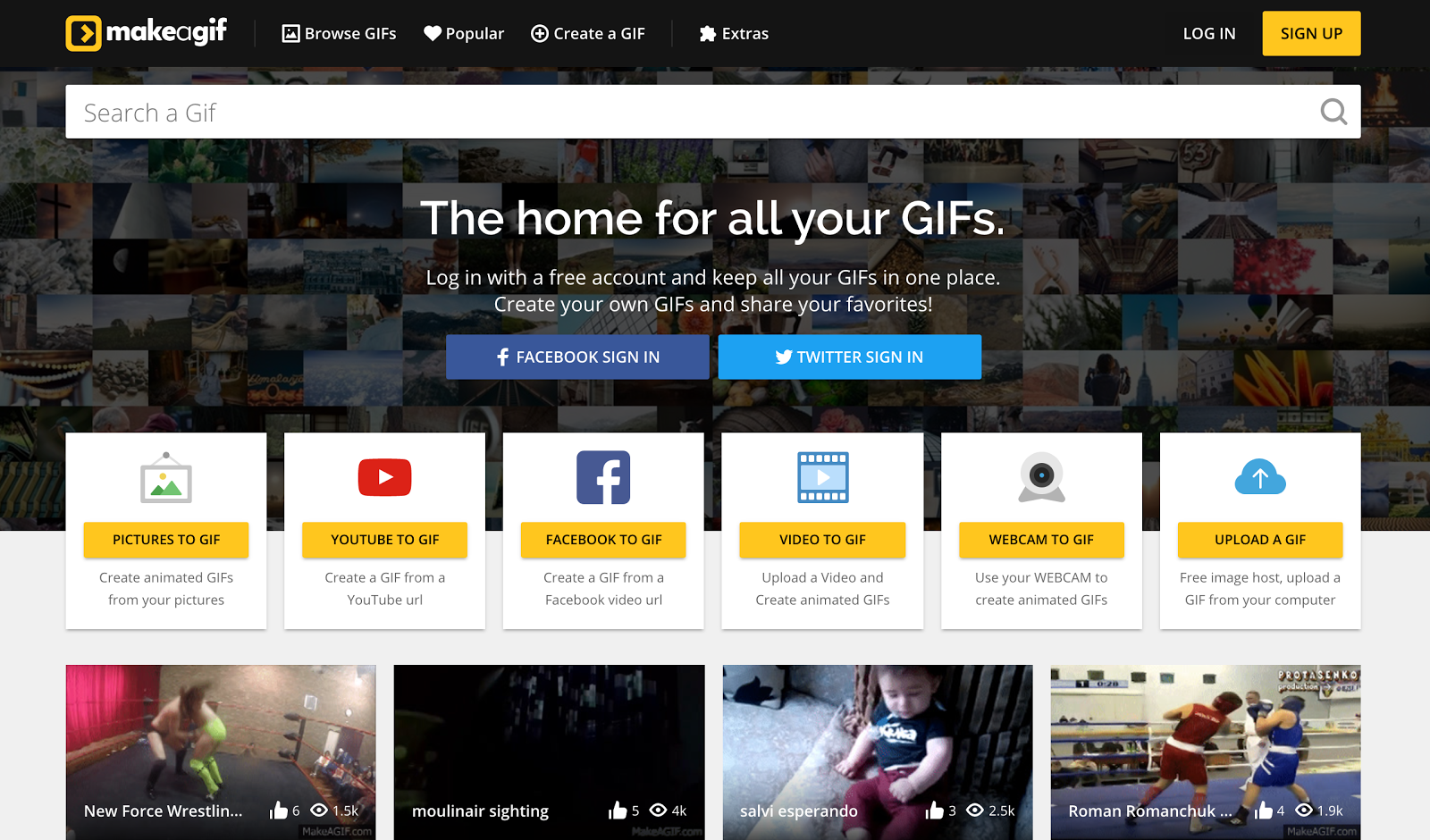 GIPHY
Some of your favorite animated GIFs and stickers are likely in this awesome online library, so why not use it to create your own? Follow these step-by-step instructions on How to Make GIFs on Giphy.
Spread the word, share your ideas
We're on the hunt for creative ways we can communicate our message and help #endthetrend. Let us know your thoughts, and your work could end up as part of our county-wide campaign!