So what's stopping some teens?
Turns out, according to youth from throughout the Johnson County area and in many locations nationwide, there are a few common reasons why kids are opting out of this dangerous trend. From peer pressure to parent interaction, it typically begins with a conversation. Below are tips and resources you can incorporate when reminding your students and children and their friends why it's better to be the G.O.A.T. (Greatest Of All Time) than to be the vape industry's guinea pig or a silly rabbit learning about vaping's consequences the hard way.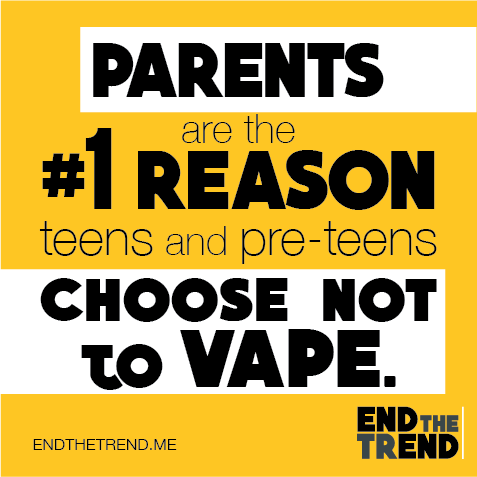 And the number one deterrent is … PARENTS!
Rumor has it that — surprise! — pre-teens and teens actually do give a hoot about what their parents think and say. (Well, maybe not when it comes to fashion or keeping a clean room or, ya know, the usual parent diatribe suspects.) When we polled Johnson County youth, they resoundingly voted their parents as the primary reason for choosing not to vape.
If you've been on the fence about having a conversation with your child or your parents, don't wait … make it happen today and join us in our march to #EndTheTrend of teen vaping. YOU matter and YOU can make a difference!
Did you know?
You may think your middle-schooler is too young for "the talk," but the facts indicate otherwise.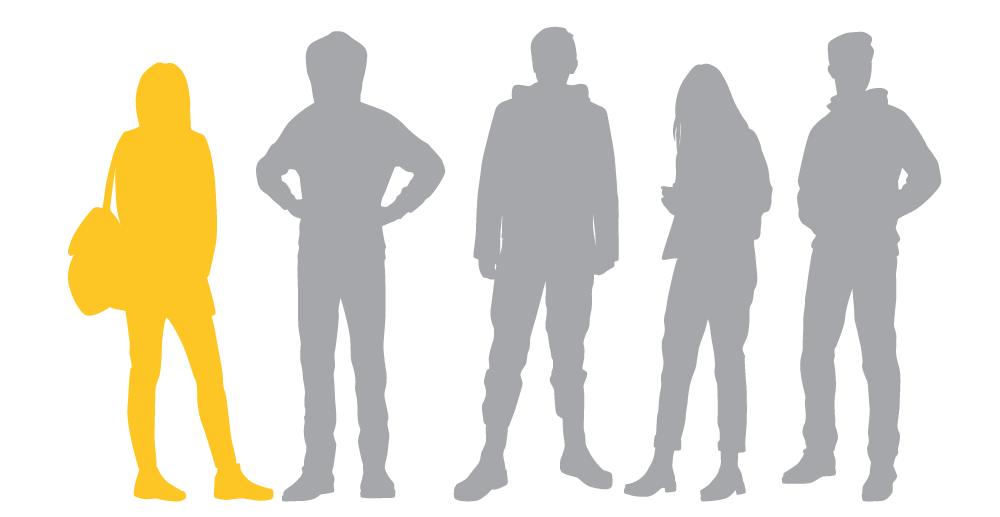 1 in 5 high schoolers vape

1 in 20 middle schoolers vape
Source: MMWR Morbidity & Mortality Weekly Report 2018
28.6% of kids had tried vaping by age 14
Source: Trends in E-Cigarette, Cigarette, Cigar, and Smokeless Tobacco Use Among US Adolescent Cohorts, 2014–2018
The target on their backs
As if today's youth wasn't busy enough trying to overcome distractions, Big Tobacco decided to capitalize on the circumstances to make teens and pre-teens the guinea pigs of their great vape experiment. By leveraging social media influencers, sleek packaging and ads portraying celeb look-alikes rocking the vape, interest was piqued … and kids got hooked.
What they never bothered to share was the truth:
This "safer alternative" to smoking is anything but safe. In fact, vape juice or e-liquid contains dangerous chemicals including formaldehyde and other unpronounceable toxins that, when heated and inhaled, can produce a number of damaging side effects. Moreover, when Juul pods contain as much nicotine as a pack of cigarettes, it's not surprising that addiction has risen in prevalence in high school and middle schools nationwide.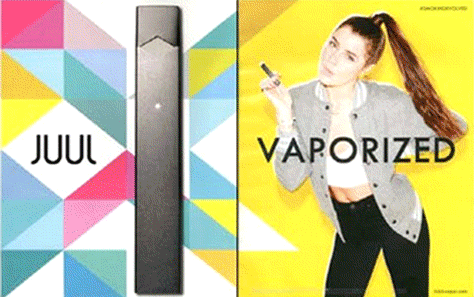 Quitting is possible with help
Vaping devices are easy to conceal, and the amount of nicotine in vape juice is high. The result? Kids can quickly get addicted, leading to serious consequences … to their health, their academic lives and their relationships.
If you're concerned your teen or tween might be addicted, there's no time like the present to get help:
In addition to these powerful program, you can help your child create new habits to alleviate nicotine cravings with these tips. You can also check with your child's school or pediatrician about additional cessation programs that they may have access to, such as MD Anderson's popular Aspire program.